How Interest Rates Can Impact Your Monthly Housing Payments
Posted by Christian Penner on Tuesday, March 3, 2020 at 3:01 AM
By Christian Penner / March 3, 2020
Comment
How Interest Rates Can Impact Your Monthly Housing Payments
Spring is right around the corner, so flowers are starting to bloom, and many potential homebuyers are getting ready to step into the market. If you're thinking of buying this season, here's how mortgage interest rates are working in your favor.
"If you're in the market to buy a home, today's average mortgage rates are something to celebrate compared to almost any year since 1971…

Mortgage rates change frequently. Over the last 45 years, they have ranged from a high of 18.63% (1981) to a low of 3.31% (2012). While it's not likely that the average 30-year fixed mortgage rate will return to its record low, the current average rate of 3.45% is pretty close — all to your advantage."
To put this in perspective, the following chart from the same article shows how average mortgage rates by decade have impacted the approximate monthly payment of a $200,000 home over time: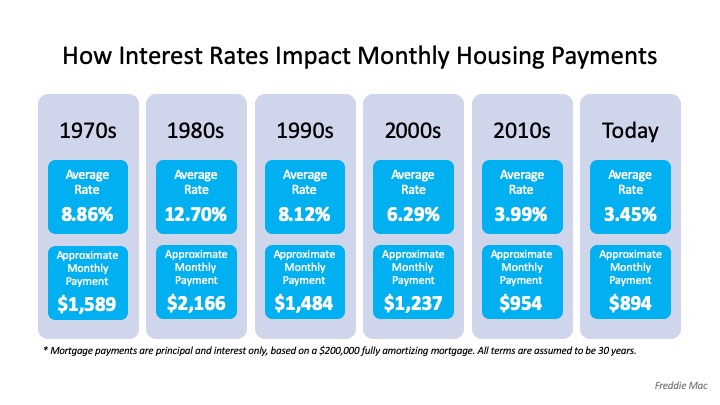 Clearly, when rates are low – like they are today – qualified buyers can benefit significantly over time.
Keep in mind, if interest rates go up, this can push many potential homebuyers out of the market. The National Association of Home Builders (NAHB) notes:
"Prospective home buyers are also adversely affected when interest rates rise. NAHB's priced-out estimates show that, depending on the starting rate, a quarter-point increase in the rate of 3.75% on a 30-year fixed rate mortgage can price over 1.3 million U.S. households out of the market for the median-priced new home."
Bottom Line
You certainly don't want to be priced out of the market this year, and waiting may mean a significant change in your potential mortgage payment should rates start to rise. If your financial situation allows, now may be a great time to lock in at a low mortgage rate to benefit greatly over the lifetime of your loan.
Read from source: "Click Me"
---
Questions, Comments or For more information you can contact Christian Penner at: (561) 316-6800 Visit us online at www.ChristianPenner.com
The Christian Penner Mortgage Team,
Buyer Referral Hotline : (561) 316-6800
---
Helping You Achieve the American Dream of Home Ownership
---
Or You can click "Call Me" below to call Christian Penner directly using Google Voice
---
Christian Penner, Branch Manager Mortgage Broker West Palm Beach talks about Real Estate West Palm Beach. He also serves other Local Areas and provides home Mortgage Solutions for Palm Beach Gardens, Jupiter, Boca Raton, Wellington and Tequesta. Christian Penner Mortgage Broker Jupiter has the lowest mortgage rates and the best home mortgage programs like; Jumbo loans, FHA Home Loans, VA Home Loans, Reverse Mortgage Home Loans, Freddie Mac Home Loans, Fannie Mae Home Loans and HARP Mortgage Loans. Christian Penner Mortgage Broker Palm Beach Gardens has Served the area for over 18 years with his Home Loan Lending Needs and Works with The Christian Penner Mortgage Team. Ask Me About A Mortgage, Palm Beach Mortgage Lender, West Palm Beach Mortgage Lender, Palm Beach Gardens Mortgage Lender.
- - -
Christian Penner
712 U.S. Highway 1 North #300, North Palm Beach, FL 33408
- - -